Packing your hospital bag can be an exciting way to prepare for the arrival of your baby. It also gives you a feeling of control over your labour and delivery. Being confident that you have everything you need for labour, delivery and the first days with your baby can give you great peace of mind. However, don't stress. If you forget anything just have someone bring it to you. 
Aim to have your bags ready to go by week 36. However, it's recommended to start packing around week 30 to avoid stress if you go into labour early. 
It's best to pack 2 bags. One for labour and delivery and one for your stay in the hospital. When you go into labour, grab your labour and delivery bag. Then once the baby is born, have your partner bring your hospital stay bag. This keeps you feeling organised and prevents a mess in the maternity ward!
What to pack for labour and delivery
Loose-fitting cotton nightdress, preferably with buttons on the front
Your midwife will need easy access to your lower half, so it's best to choose a nightdress rather than a pyjama set. Choose cotton because it's breathable and comfortable and look for buttons that you can unbutton for skin-to-skin contact and breastfeeding just after the baby is born. 
Remember, the clothes you wear giving birth are at risk of being ruined. Don't wear anything that you'd be upset to throw away afterwards. 
Comfortable, non-wired bra
If you'd like to wear a bra, choose a soft bra with no wires, or a nursing bra. Not only would a wired bra be uncomfortable, but it would also need to be taken off if you were brought for a c-section. 
Light dressing gown for walking around 
This will protect your modesty as you walk around the maternity ward. Go for a light cotton dressing gown as your cosy one will just overheat you. Maternity wards are notoriously warm. 
Phone and charger 
Your phone is great for so many reasons during labour and delivery: keeping in touch with friends and family, providing entertainment during any slow parts of labour as well as taking the first pictures of your baby. 
Make sure you have plenty of data allowance, just in case the hospital's wifi isn't great.
Warm socks and slippers 
As warm as the maternity ward is, many mothers complain of cold feet during labour so bring your fluffy socks. Choose slip-on slippers so you can put them on without bending down. 
Hair bobbins, clips and a brush
Your hair getting in your face is annoying at the best of times. Have lots of bobbins, clips, hairbands and a brush to keep your hair away from your face. 
Snacks
Choose slow-release energy snacks to keep your energy up throughout labour. Avoid sugary foods as they give you a boost of energy and then leave you feeling tired. Also, avoid fatty foods as they're more likely to make you nauseous. 
Throw in some minty sweets or chewing gum to freshen your mouth and clear your sinuses. 
Lip balm and moisturiser 
Your lips will feel dry from breathing through the contractions, especially if you're using gas and air. 
Earphones 
A lot of expectant mothers make playlists of their favourite music to help them feel upbeat during labour. You can also listen to calming sounds or a guided meditation to give you a feeling of calmness. 
Washbag with toiletries
Remember to pack shampoo, conditioner, shower gel, toothbrush, toothpaste, skincare products and any prescription medication you're taking. Make sure to let your midwife know about any prescriptions beforehand. 
Pillows
Hospital pillows can leave a lot to be desired. Bringing your favourite pillow can help you feel comfortable and get better sleep. Use a waterproof pillow protector to make sure your favourite pillow doesn't get ruined.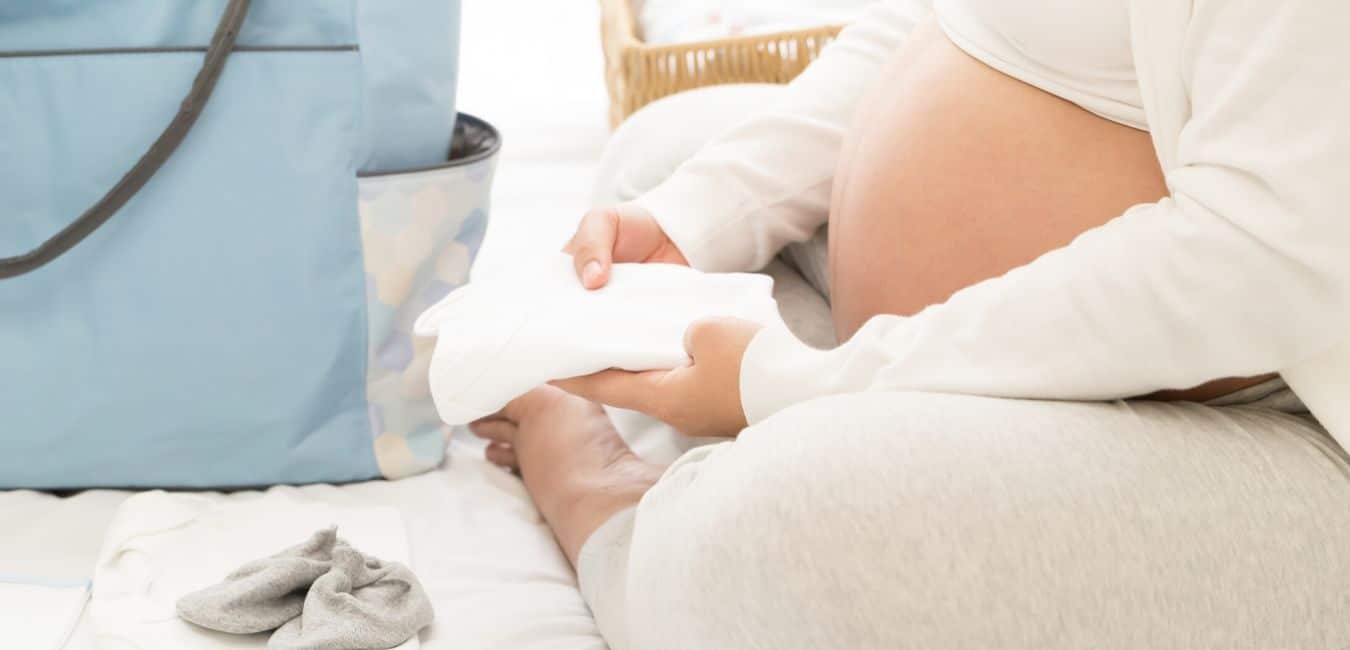 What to pack for your hospital stay
Fresh pyjamas
Pack a few pairs to allow you to change whenever you like and keep you feeling fresh. 
Maternity pads
These pads are longer, softer and more absorbent than regular pads. You'll need plenty of maternity pads in your bag as you'll need to change your pad every 2 hours after giving birth.
Full-brief underwear
Granny panties are a must. Choose a size bigger than you'd normally wear for extra comfort and space for your maternity pad. Big underwear will also be more comfortable if you've had a c-section because the seam will sit higher than your incision. 
Breast pads, nursing bras and nipple cream
Your breasts have been through a lot, too. They'll need some TLC. 
Flip flops
Great for walking around and using the shower. 
Bath towel
Pack your fluffiest dark-coloured bath towel for some comfort. 
Plenty of snacks 
You'll probably be really hungry after giving birth and beginning to breastfeed. Keep yourself energised between the hospital's mealtimes with plenty of snacks. 
Earplugs
Maternity wards can be noisy. Earplugs can block out the sounds of other babies during the night and block out the sound of other people's visitors if you're napping during the day. 
Anything that makes you feel like yourself 
Pack some luxury items like a face mask, hair treatment or makeup. A little pampering will go a long way.
Clothes for going home 
Stick with your maternity clothes, for now. Your baby bump probably won't be much smaller leaving the hospital.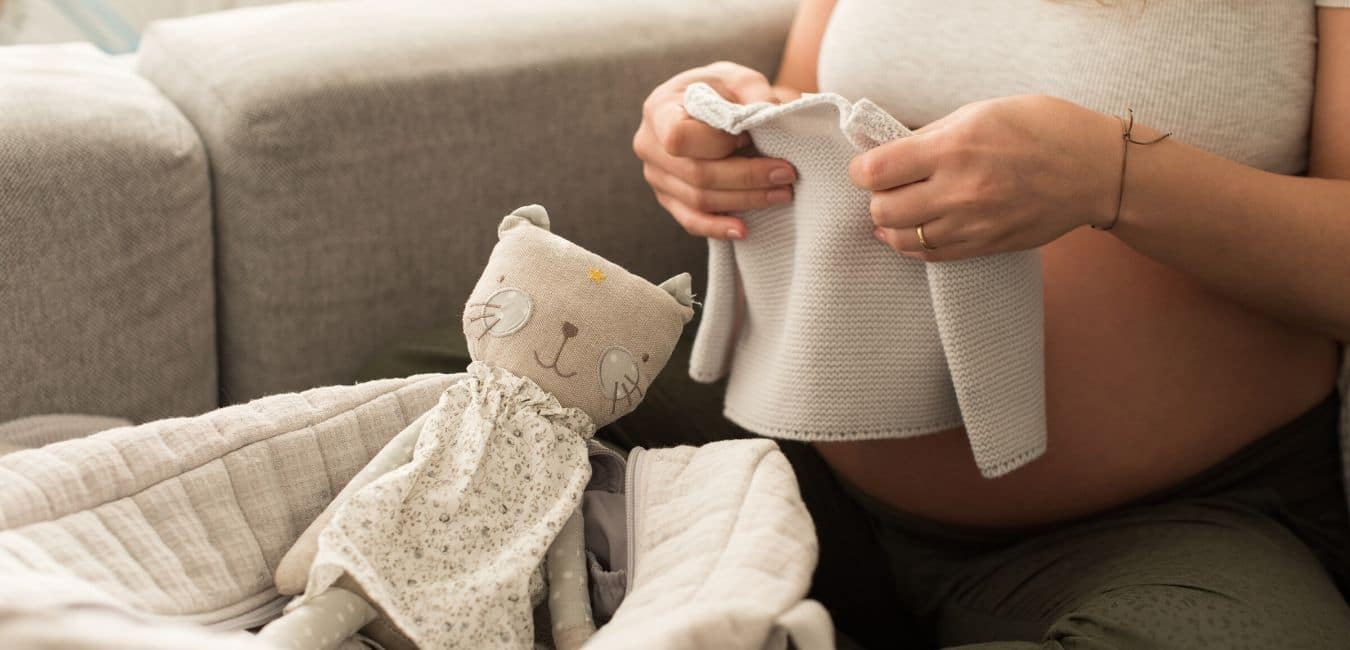 Plenty of clothes
Including babygrows, vests, sleepsuits, mittens, hats, cardigans and bibs. Bring a few in a larger size, just in case of a big baby! 
Pre-wash your baby's clothes using non-bio detergent to remove any chemical residue from the factory. Babies have very sensitive skin so it's best to pre-wash anything which will be in direct contact with their skin.
Cellular blankets 
These blankets have small holes in them which allow airflow. This means they keep your baby cosy without overheating. 
A pack of newborn nappies and wipes
Don't be tempted to buy a jumbo pack of newborn nappies, your baby might need a bigger size. Start with a pack of newborn nappies and your partner can get more later. 
Bath towel 
To keep them cosy after sponge baths. 
Outfit for going home
Pick something cute and comfortable to mark the special day that your baby came home. You'll probably receive plenty of adorable outfits as gifts so you'll have lots of choices! 
Car seat 
Most expectant parents will choose their car seat during pregnancy to be prepared. This prevents dad from having to panic-buy a car seat on the day your baby comes home.