Gender Reveal Parties: Sharing The Excitement
Ah, the Gender Reveal Party, the super cute soiree that's sure to leave your nanny saying "we never had the likes of this in my day!". In Ireland, we have grown to love a good Gender Reveal Party over the last few years with over 40% of expectant mothers now planning some sort of gender reveal event. It's no surprise that we've taken a leaf out of America's baby book and made these events a staple in our calendars, what better way to share such a special moment with your closest friends and family (and 200 of your dearest acquaintances, if you're a bit extra), a gender reveal party is sure to be an event you and your family will always remember… as long as you don't give the guests too much Prosecco.
Planning Your Gender Reveal Party
Gender Reveal Parties can take on many forms, varying themes and settings but they're always pretty magical – even when they don't go to plan. There are so many themes to choose from, you can pick which theme you think is the most fun or you can go rogue and do your own thing. You're the one bringing a baby into the world, you can do whatever you want. If you'd like some inspiration here's 9 super cute theme ideas – my favourites being "Waddle it be?" and "What will it Bee?" so if you go with either of these themes please post lots of pictures to the UltraScan's Mums Facebook Group so we can all swoon over the cuteness.
Now we need to invite your guests, without them there would be no gifts, no adoration and your Instagram video would be missing the all-important screeching. So do you do the standard and very practical group text message? Something like "Hi, gender reveal party at my house Saturday at 2pm. Dress code: Bumble Bees." followed by phone calls from family members asking hundreds of questions and maybe a couple of "new phone, who's this?" replies. If that sounds a little bit vanilla to you, you could go the extra mile with printed invitations which you design to match your theme and have posted out to all your nearest and dearest (still probably get the confused phone call from nanny though). My personal favourite option is a middle ground between the previous options which is designing an invitation on an app and Whatsapping (yes, that's a verb now – spellcheck, get with the times) my creation to my guests, complete with scan pictures and hints to my theme, or lack thereof. Also, I'll proactively call my older family members to save time later!
Now to choose what to wear, maybe you've chosen a "Prince or Princess" theme and you're going to dress like a queen? Or maybe a nautical theme and you'll be dressing as a mermaid. Or maybe just a slogan t-shirt, something cute like the classic "bun in the oven" etc. Whatever you wear everyone will think you look beautiful because you have that pregnancy glow and those pregnancy hormones that can show up without warning so everyone better stay on your good side.
The costumes mentioned above have a bonus feature of matching male counterparts, your baby's dad will be so pleased when you present him with his costume, whether you decide he's destined to be a king or a sailor, he's gonna love it! (Sorry baby daddies, but it's pretty cute.)
Gathering Gender Reveal Ideas
We've seen so many different ways to reveal your baby's gender, there are hours of compilations videos on Youtube to lose yourself in for hours and call it "research". If you do explore this corner of the internet you'll find plenty of "fail" videos and some very sweet ones that could bring a tear to a glass eye. A good sample of this is a segment from the Ellen Show where she does the gender reveal for a couple in the audience, now I'm not saying you should try to organise for Ellen Degeneres to reveal your baby's gender, but I'm sure you could try someone more accessible, maybe Daniel O'Donnell would be chuffed to do it – plus your nanny will certainly be convinced of the wonder of gender reveals then.
If Daniel ignores your Facebook message, you can always turn to our sister company UltraBaby for some amazing ideas.
Our original and most-loved gender reveal method. Our staff discreetly fill your balloon with either pink or blue confetti, ready for the all-important POP! 
Reveal your baby's gender with a BANG and shower your guests with pink or blue confetti! We recommend choosing a cannon rather than a balloon if your Gender Reveal Party is not the same day as your scan with us.
For those who want that extra drama – we can arrange to have a plane fly over your party releasing blue or pink smoke to reveal your baby's gender to your guests!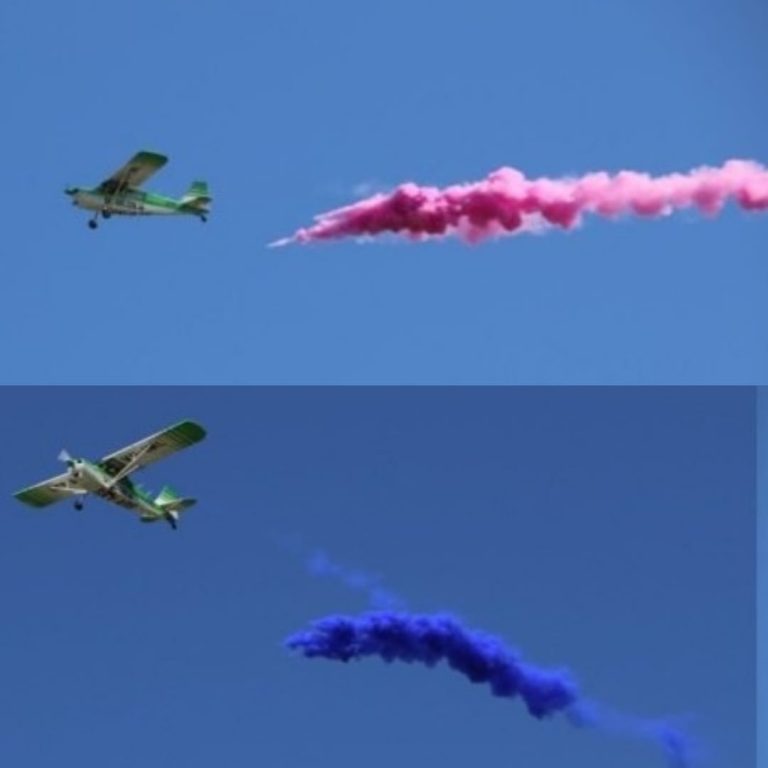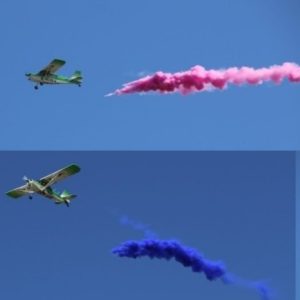 Finding Out Your Baby's Gender
So, you've set the date for your gender reveal party, you've chosen the venue, chosen the theme and invited all your guests, searched Amazon for hours to find the perfect maternity costume/witty t-shirt, now it's time to get your scan and ask the sonographer to keep it a secret, then discreetly write down your baby's gender and hand it to you in a sealed envelope. This sounds easy – except when you get to your public maternity hospital appointment for your 20-week scan there's a huge queue of agitated pregnant women all wishing the lady who just went in for her scan would hurry up and get out. You feel the tension in the air. You see the sonographer peek her head out of the examination room to call the next lady, she looks busy and stressed. She looks like she's having the day from hell, and now I'm gonna waltz in there talking about my bumble-bee-themed party. The doubt starts to creep in now: "is she gonna be angry if I ask her to fulfil my cute request for a secret sealed in an envelope? Is she gonna say no? Does she even care or am I just another name on the list? This is starting to stress me out!"
Have no fear, Ultrascan is here
This is where Ultrascan comes in! With us, you can book your Gender Determination Scan from as early as 17 weeks, rather than waiting until after 20 weeks for your public hospital appointment. You can tell us exactly how you want to find out your baby's gender. All you have to do is come into Ultrascan for your appointment, enjoy the relaxed atmosphere in our state-of-the-art clinic, and leave it all up to our friendly staff. Thanks to our innovative technology we can even offer you greater certainty of your result, public maternity hospitals claim 85% certainty of Gender Determination results at 20-22 weeks, whereas in Ultrascan we achieve 95% certainty at 17 weeks. So, it could be a good idea to check in with us before you paint the nursery!
Also, we know the drill, we deal with surprises all day long – it's pretty fun and we've gotten good at it. We will always be happy to help make your pregnancy as special as possible.
Pop over to our Facebook page to see great examples of our work and check out our 270+ reviews. We won't boast, we'll just let our customers tell you how good we are!
We hope to see you and baby very soon in our beautiful clinic in Fashion City, Ballymount.
To book a gender determination scan or our gender reveal package click here or call us today on (01)4295710 or Whatsapp 0852544481.