At UltraScan, we preform our Early Pregnancy ultrasound scans from 8 weeks gestation. In this scan, we look at how many foetuses and gestational sacs are present, we also confirm your baby's heartbeat and estimate your due date with impressive accuracy. For this reason, we often refer to these scans as "Dating Scans" as we determine how far along you are and give you an estimated due date. Before 11 weeks, we estimate your due date within 3-5 days of accuracy. You also receive printed pictures of your little one, and the priceless reassurance that they are doing well.
An Early Pregnancy Scan can be extremely settling in the angst-ridden first weeks of pregnancy. Expectant parents often seek out our services when they are dissatisfied with the date of their first public hospital scan. Public maternity hospitals can schedule your first scan as late as 21 weeks, meaning you're more than halfway through your pregnancy by the time you get that reassurance which gives you the confidence to share your news. If you have a history of fertility issues or miscarriages, an early pregnancy scan may help to ease your worries and allow you to enjoy your pregnancy more. Research conducted by Liverpool Women's Hospital amongst women with a history of recurrent miscarriages has shown that if a heartbeat can be confirmed at 8 weeks, the risk of miscarriage is just 2%. If the heartbeat can be confirmed at 10 weeks, the risk of miscarriage is just 0.6%. These numbers are even more positive amongst women without a history of miscarriage. So, it's easy to see how reassuring it can be to hear your baby's heartbeat in the first trimester.
What can I see at an Early Scan?
Our Early Pregnancy Scans are performed only in 2D and there is no option to use 3D imaging as your baby does not have enough fat under their skin for us to achieve a 3D image. Depending on which week you have your scan, the baby will look very different. Your baby is growing rapidly, at about 1mm per day! At eight weeks, your baby will measure about 1.6cm with a heart rate of about 160 beats-per-minute! You'll be able to make out their head, body and developing limbs. At nine weeks, your baby is almost fully formed, making it easier to make out their little limbs. At ten weeks, your baby measures around 3.8cm and you might see them make slight movements.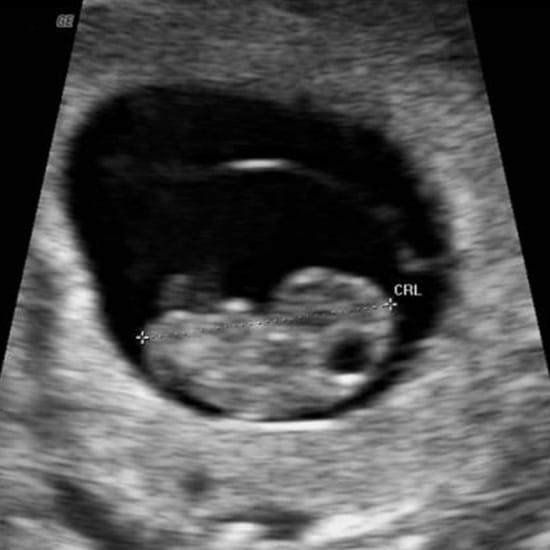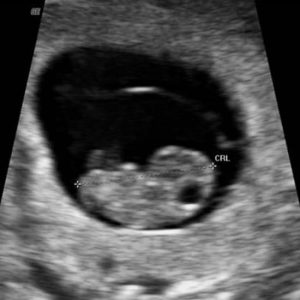 Having an Early Pregnancy Scan at UltraScan
You will be allowed to bring up to 5 guests to your Early Pregnancy Scan, although you may want to bring just your partner, birthing partner or parent. Unlike our Gender Determination Scans or 3D/4D Scans, the Early Pregnancy Scan is not as interesting to watch (sorry tiny babies!). The aim of this scan is to check on the tiny guy or gal, see how they're doing, how they're developing and when they'll be gracing us with their presence. If you want an amazing family experience at UltraScan, it's best to wait until 24 weeks onwards, when you can book in for a 3D/4D ultrasound scan. 
To make an appointment, visit our Book Online page, or call 01 429 5710.
We look forward to welcoming you!
– The UltraScan Team