With the summer months approaching, you may be looking forward to picnics, days at the beach or long walks in the park with your family. We want to make the most of the summer with our babies, but in the safest way possible. You might be worrying about the harmful effects of the sun and its heat on your baby, but don't want to keep them inside all summer either. In this blog post, we'll outline our best tips for keeping your baby safe in the sun. 
Baby sun safety is extremely important for your baby's health, not just now but for the future. Children who get sunburned in childhood are more likely to develop melanoma (skin cancer) in years to come. Although cases of melanoma in people under 20 are rare, cases have spiked in recent years. This spike is due to improper information around sun protection, at all ages. Many people still believe that exposing babies and children to the sun will help them to build a tolerance to the sun and avoid sunburn in later life.
Keep your baby out of the sun
It's recommended that you stay indoors with your little one between the hours of 10am and 5pm, to avoid the sun's rays at their peak. However, this isn't always practical. If you're taking your baby out, make sure you have plenty of UV-resistant fabric shielding them from the sun. If you're going for a walk you can use a UV-resistant buggy hood. If you're going for a picnic or to the beach, invest in a UV-blocking popup tent.
Tip: 90% of UV rays can pass through light clouds. Practice sun safety even on cloudy days.
Dress your baby in UV-resistant clothing
If your baby is constantly on the move, prioritise UV-protective clothing. These clothing items are assigned a UPF (ultraviolet protection factor) which tells you how much of the sun's rays they block. For example, fabrics with UPF 50 will block 98% of UV rays from reaching your baby's skin. 
You can cover your baby head-to-toe in these fabrics using bodysuits, hats and socks. This will be more effective than any sunblock you can apply to their skin. Any areas which cannot be covered by clothing, like hands and face, can be protected with sun cream.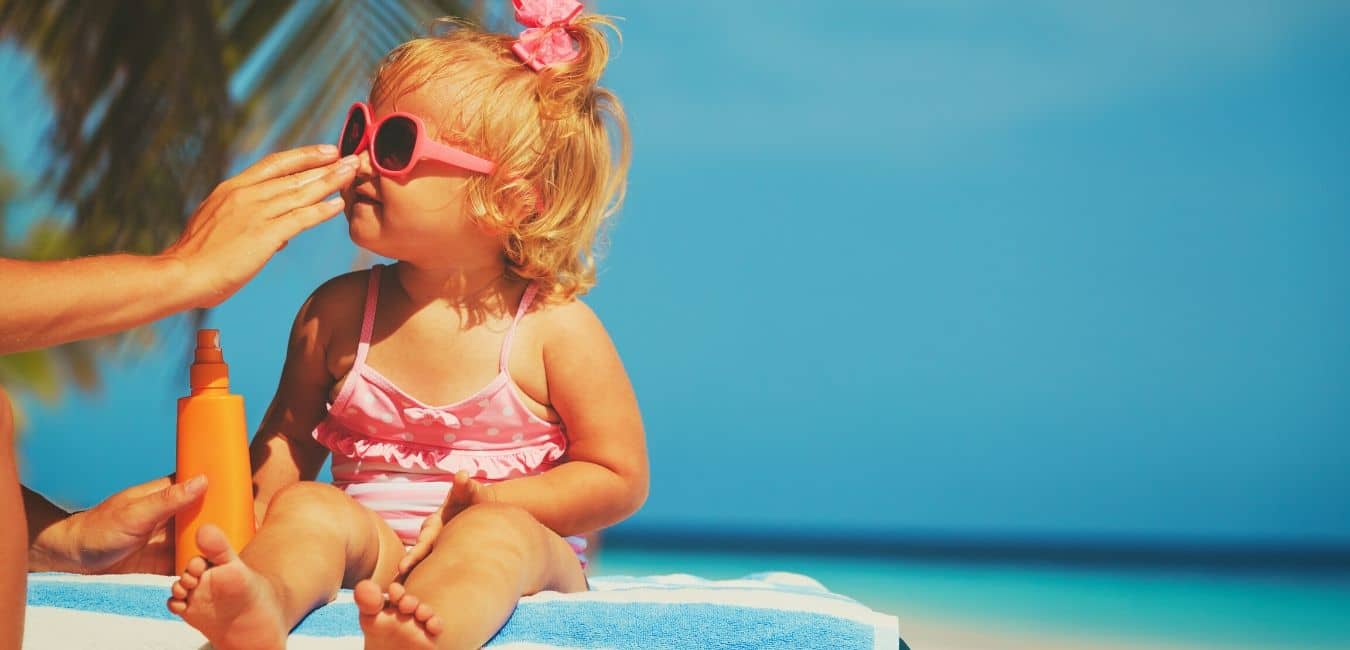 Babies under 6 months should not wear sunblock. This is because their skin is too delicate and absorbs substances too easily. Large amounts of the chemicals in sunblock creams (usually titanium oxide and zinc oxide) can overwhelm your baby's system and make them very sick. 
Sun cream tips:
Use sun creams which are specially formulated for babies and children

Always use sun creams which protect against UVA and UVB 

Always do a patch test 48 hours before first use

Choose lotions with SPF 30 or higher

Avoid spray-on sun protection as the coverage tends to be less consistent

If you only have a spray, always spray into your hands, then apply to your child's skin

Apply 30 minutes before sun exposure and re-apply every 2 hours

Re-apply more often if your child is swimming or sweating

No sun lotion is waterproof, just water-resistant, meaning it's not washed away by water, but the coverage becomes patchy.
Besides being incredibly cute, baby sunglasses are an important sun safety step. Your baby's eyes are much more sensitive to UV rays than adult eyes and absorb 70% more of the harmful rays. This UV exposure is linked to cataracts and deteriorating vision in later life.
When buying sunglasses for your baby, always choose sunglasses which state that they comply with BS EN 1836:2005 standard and are labelled "UV 400". Babies should wear sunglasses from 6 months, using sunglasses from an early age will help your baby adjust to wearing them, making them less likely to take them off.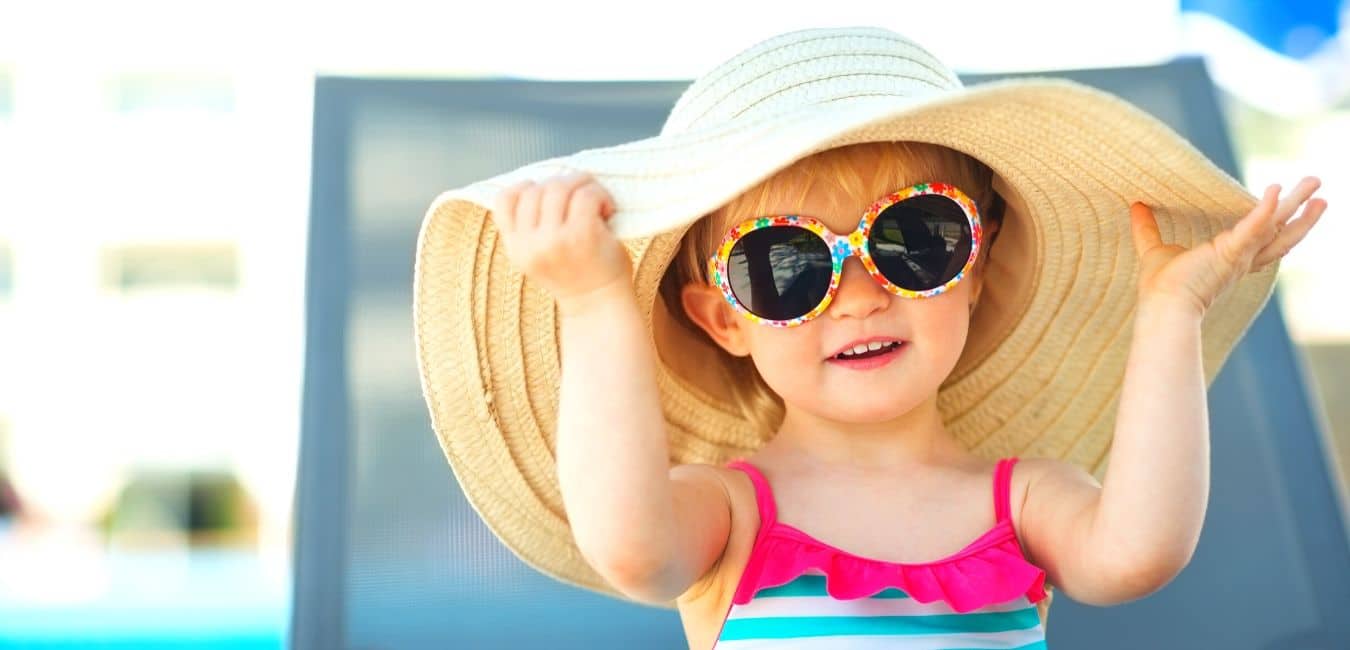 Protect your baby in the car
The sun's UVA rays can pass through glass, so it's important to practice sun safety in the car, or anywhere there's a large amount of glass. Use window shades or have your windows tinted to block UV rays in the car.
As always, never leave your child in the car alone, even for a minute. This is especially vital on hot days. The temperature in your car can rise dramatically in minutes and pose a danger to your baby. Babies cannot regulate their body heat as well as we can. Their ability to regulate their own body temperature does not fully develop until age 2. So, a room or car that feels warm to you, is probably making your baby feel uncomfortably hot. 
On hot days, make sure to cool your car before each journey and always park in the shade.
What to do if your baby gets sunburned
Nobody's perfect, accidents do happen. If your baby has gotten a sunburn you can:
Apply a cool compress – soak a cloth in cool water and place on the sunburn for 10-15 minutes a few times per day

Bath your baby in room temperature water to help cool their skin

Apply a baby moisturiser to soothe their skin and aid recovery

Offer extra fluids to keep them hydrated and replace fluids lost from sweating
If your baby's skin is tender, swollen, blistering or cracking, consult your doctor for advice.