If you have babies and toddlers, you'll be very familiar with babyproofing your home. You've probably secured your cabinets, cushioned any sharp edges, blocked off the stairs and put your valuables out of reach of little hands. 
Now, it's that time of year again when we all start to dream of the festive vibes we'll be introducing into our homes very soon. How do you strike a balance between your Christmas aesthetic and your baby-proofed home? We're going to explore some of the ways you can achieve that festive feeling with less worrying about what your little one is up to.
The pine needles which shed from the tree are not just annoying and messy but can pose a risk to your little ones if they eat them. Your real tree will also need to stand in water, which will pose a huge splashy temptation to your toddler!
Avoid any decorations which wrap around the tree
Decorations such as string lights, tinsel, garlands, etc. make your Christmas tree much more dangerous for your little one. Your toddler can get tangled up in these decorations, posing a strangulation risk, as well as possibly pulling them causing the tree to fall.
Choose a pre-lit artificial tree
Going for a pre-lit Christmas tree will not only save you the hassle of untangling lights every year but will avoid the risks posed by string lights.
If you use string lights, wrap them around the middle
It's not always an option to splurge on a brand new pre-lit artificial Christmas tree. If you're using string lights, wrap them securely around the middle of your tree rather than draping them on the branches. This puts them out of reach of your toddler and limits the harm they can cause. If your lights are easily accessible, your little one may get tangled up, put the lights in their mouth or topple the tree.
If your tree falls over it can cause injury to your toddler. You can prevent it from toppling over by weighing down the base using a heavy object disguised as a Christmas present (because a brick or a sandbag under the tree doesn't look very festive). You can also anchor your tree to the wall to prevent any swaying or falling.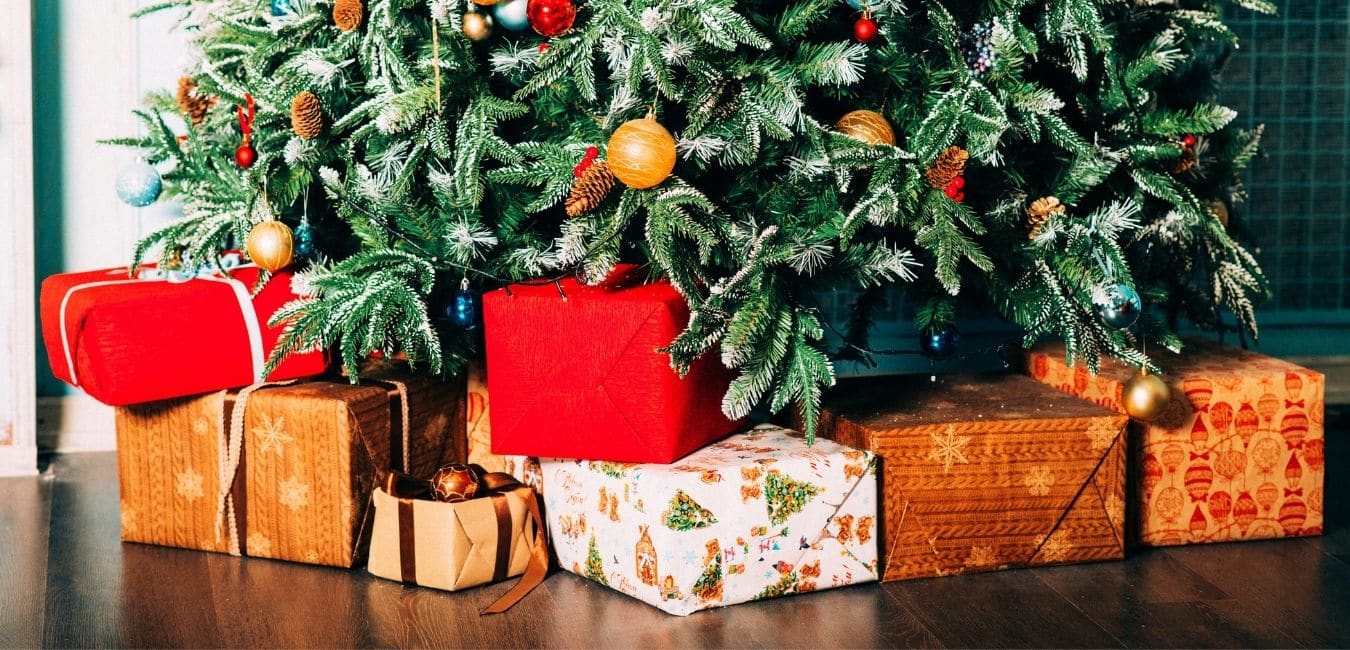 Put a barrier around the tree
There are lots of ways you can simply block access to your tree. Some people use baby gates, fireguards, playpens, specially-made picket fences or large boxes wrapped up to look like Christmas presents. Alternatively, put your tree in the corner and put furniture in front of it.
Choose decorations made of materials which won't easily break or smash, like wood, plastic or fabric. Use ribbons to tie your decorations to the tree instead of the wires or strings which come with your ornaments. If your tree is secured against any wobbling, you could put your fancy ornaments higher up on the tree where your toddler can't reach them.
Involve your children in the decorating
They might not achieve the Instagram-worthy aesthetic you're dreaming of (you can always let them do the back!), but decorating the tree together is a family tradition your kids will always remember. Not only is it cute to let your toddler hang decorations, but it will also give them a chance to explore the tree while supervised, making it less interesting to explore later when your back is turned.
Parents of toddlers know that silence is not golden – it's very suspicious. Tying decorative bells to your tree will act as an alarm to alert you that someone is getting too boisterous with the tree.
If the idea of trying to foresee every unsafe situation that could arise from your Christmas tree is too stressful, you could go for an alternative Christmas tree. Try making a "Christmas tree" using felt, paper, cardboard or even balloons. Just create the tree shape and stick it to the wall, then finish it with homemade decorations. This makes a great art project to do with the kids and it adds festive cheer to your home.
Why have one big tree when you can have multiple smaller ones? They're fun to decorate, don't take up much space and won't cause injury if they fall. You could even get a small tree for your child to look after – if they have their own tree they may be less interested in your big tree.
Remember, the Christmases you spend with your children while they're small are some of the most special Christmases of your life. Don't let worry prevent you from enjoying it to the fullest. We hope you have a happy and safe Christmas!
For the new babies, read our blog about Celebrating Baby's First Christmas!